Jennifer + Jimmy's Spring Wedding at Stambaugh Auditorium | Wedding Photographers in Cleveland, Ohio
Wedding Photographers in Cleveland, Ohio at Stambaugh Auditorium in Youngstown
Jennifer and Jimmy had a great spring wedding at the Stambaugh Auditorium in Youngstown, Ohio. The architecture is freaking amazing there! It is an incredibly well laid out place to have a wedding and reception! It is located right in the heart of Youngstown and only about an hour from Cleveland and Akron.
Jennifer and Jimmy met through college. They lived in the same dorm their freshman year. They became friends and ended up living on the same floor their sophomore year. Eventually, they started dating. The rest, as they say, is history!
The couple had a totally chill time getting ready. The guys even brought board games, which we highly approve of! After getting ready, Jennifer and Jimmy shared an intimate first look in front of the iconic sandstone columns of Stambaugh Auditorium. Following was their bridal party photographs and then just the two of them (both personally and professionally, this is the best schedule for a wedding day).
For their ceremony, they shared heartfelt vows in the hall. Again, amazing architecture. The ballroom lobby was amazing for the cocktail hours while Jennifer and Jimmy talked with their guests. For the reception, we loved the donut display on the "Holy Matrimony" peg board that Jennifer's dad made. And of course this being Youngstown, you always expect a cookie table. We even asked them the week before their wedding if they were going to have one, because we told them if they didn't they would have a riot on their hands… seriously, lol. Even though they are a laid back couple they sure got their boogie on once they hit the dance floor!
Jennifer and Jimmy, we wish you two the very best in life and marriage!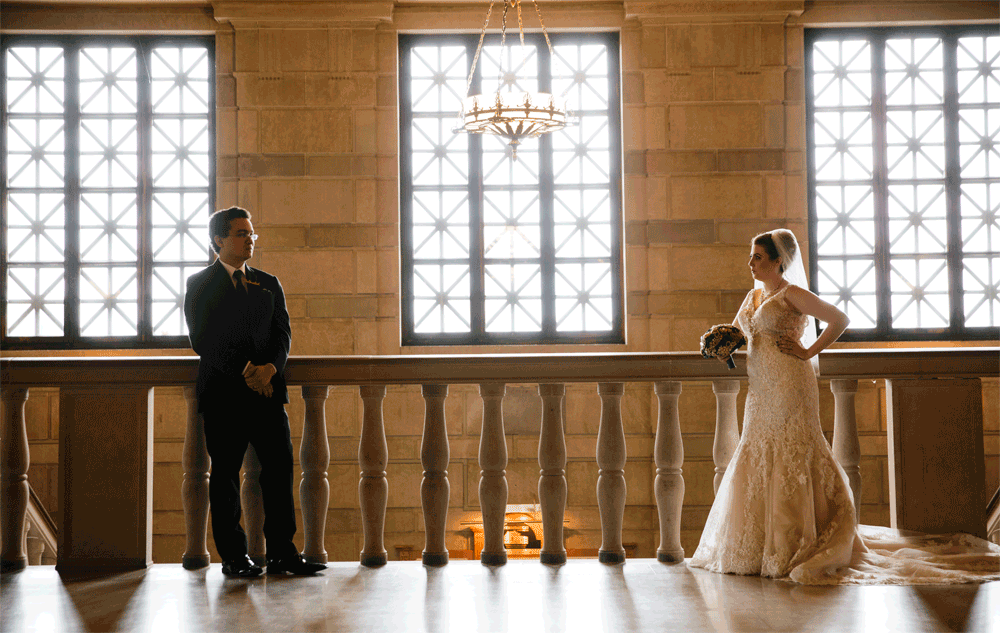 Wedding Photographers: Brian + Joelle Hunsaker Photography - Northeast Ohio
Ceremony and Reception: Stambaugh Auditorium - Youngstown, Ohio
Caterer: Blue Wolf Events - Youngstown, Ohio
DJ: Blacktie Entertainment - Youngstown, Ohio
Dress: Evaline's Bridal - Warren, Ohio